I INTERNATIONAL CONDUCTING COMPETITION "LLÍRIA, CITY OF MUSIC" Jury
Conductor.
Chief conductor of Orquesta de Valencia (1983-1997).
He was born in Llíria (Valencia-Spain). At the age of eleven he was awarded the "Pare Antoni" Award at the Sociedad Musical y de Enseñanza Banda Primitiva de Llíria, where he began his first steps. Higher studies at the Superior Conservatory of Music of Valencia. Orchestra Conducting Courses (1957/1959), with Volker Wangheneim, and later with Igor Markevitch (1966/1971), of which he was assistant conductor and favourite student.
His relationship with the Valencian Community has been very intense since the years he was chief conductor of the Orquesta de Valencia, (1983/1997), of the Instrumental Group, and as Musical and Pedagogical Director of the Youth Orchestra of the Generalitat Valenciana, until 2017. Guest conductor in most of the Spanish orchestras: ONE, RTVE, OCB, Palau de les Arts, San Sebastián, Bilbao, Castilla-León, Las Palmas, Tenerife, Mallorca, Seville, Malaga, Córdoba, Oviedo.
He has conducted numerous orchestras in Europe, Asia, and America, among others: National of France, National Bordeaux Aquitaine, Opera de Nancy, Opera de Monte-Carlo, Orchester de Lausanne, English Chamber, Hungárica Philharmonia, Dresden Philarmoniker, Bayerischen Rundfunks, Nurenberg, Wuppertal Philharmonic, Regensburg, Wiesbaden Opera, Mainz Opera, Chemnich Robert Schumann, Cluj Philharmonic, Saint Charles of Naples, Cagliari Lyric Theater, Krakow Philharmonic, Limburg Holland Symphonic, Nison Symphony Orchestra from Tokyo, Simón Bolivar from Caracas, Sodre from Montevideo, Ofunam i Filarmónica from Mexico City… Invited to major festivals, such as the "Europaâische" in Berlin, "44 Festival Musicale Ravello", "Festival Roma 96", "24 International Istanbul Music Festival", "Music Festival Miami-Florida", "International Contemporary Music in Alicante", etc.
His wide repertoire encompasses all genres and styles. In the field of opera, titles by Mozart, Vicente Martín y Soler, Cimarosa, Donizetti, Verdi, Puccini, Donizetti, Wagner, R. Strauss, Gershwin, Dallapiccola, M. Palau… As for symphonic / symphonic-choral music, from the baroque, Bach, Handel, the classicism of Mozart and Haydn, all the symphonic work of Beethoven and many of the romantic productions: Schubert, Schuman, Brahms, Mendelssohn, Chaikowski, Mussorgski, Rimski-Korsakow, Mahler, including his 8th Symphony "of the thousand", the impressionism of Debussy, Ravel, Roussel, the culminating symphonism, Nielsen, (premiere in Spain with the ONE of his 5th Symphony). Shostakovich, Prokofieff, Rachmaninoff, Bartok, Stravinsky, Janacek, Ligeti, Lutolawski, Alban Berg… The Spaniards Manuel de Falla, Joaquín Turina, Jesús Guridi, the Sevillian Manuel Castillo, Tomás Marco, Ernesto Halffter, Cristobal Halfter. José Luis Turina, Francisco Cano … Premieres by Manuel Palau, Vicente Asensio, Llacer Plá, Eduardo Chavarri, Vicent Garcés, Luis Blanes, and many of today's young people: Cesar Cano, Miguel Gálvez Taroncher, Andrés Valero, Voro García, Carlos Fontcuberta, Oscar Navarro, Francisco Coll, etc.
He has recorded for the Auvidis, Sony Clasical, EMI, Albany Records US, RTVE, ANEC and Generalitat Valenciana (IVM) labels. He has collaborated with the most relevant singers and instrumentalists on the national and international scene.
He otherwise belonged in 1964 to the Body of Music Directors of the Navy. He is Professor of Orchestra and Choir Conducting at the National Superior Conservatories of Music. Corresponding member of the Royal Academies of San Romualdo de San Fernando (Cádiz), Santa Isabel de Hungría de Sevilla, and San Fernando de Madrid, and Full Member of the Royal Academy of Fine Arts of San Carlos in Valencia. Distinnguished by the Valencian Academy of Music. The Llíria City Council awards him the City Medal and the Jaume I Prize.
Conductor.
Artistic director of "Llíria City of Music" Conducting Competition.
Considered one of the most important conductors of his generation, Cristóbal Soler has established a successful career conducting extensive symphonic repertoire and opera productions. He has always received excellent reviews that emphasize his charisma and interpretation as well as accurate and consolidated conducting technique. This is the result of a solid and rigorous training in Vienna during a decade, studying the great Central European repertoire of the 19th and 20th centuries, from the hand of great directors like Harnoncourt, Sawallisch, Prêtre, Vladimir Fedoseyev or Mariss Jansons.
During his six seasons as Chief Conductor of the Teatro de la Zarzuela in Madrid, he has conducted new productions such as El Gato Montés (Teatro Campoamor Lyrical Award for best lyrical production 2013); The Crown Diamonds (International Opera Awards 2015 nominee); the modern-day premiere of Galanteos en Venecia (Max Awards 2016 nominee), as well as an extensive catalogue of zarzuelas: El barberillo de Lavapiés, Pan y toros, Alma de Dios, El trust de los tenorios, Los claveles, La Moorish queen, Doña Francisquita, Luisa Fernanda, La Generala, La Revoltosa, La Verbena de la Paloma, Water, sugar and brandy, Last year for water, The shirtless, Marina, The blue Domino, La Dogaresa, La Gran Vía, The Flamingos, Good luck, Katiuska, etc.
In the field of opera he has conducted Don Giovanni, Le Nozze di Figaro, Cosí fan tutte, La Traviata, Rigoletto, L´elisir d´amore, Don Pascuale, La Sonambula, Carmen, Aida, Le Roi d'Ýs, Mireille, La Grande Duchesse de Gerolstein, Werther, María Moliner… In both genres, he has collaborated with stage directors such as Graham Vick, Pier Luigi Pizzi, José Carlos Plaza, Emilio Sagi or Paco Mir, and in theatres such as Maestranza in Seville, Campoamor Theater in Oviedo, Sâo Carlos Opera Theater in Lisbon, A Coruña Festival, Palau de les Arts de Valencia, etc.
He has paid special interest to the recovery of unpublished lyrical heritage, leading world premieres in modern times of operas such as Le Revenant and Le Diable à Seville by JM Gomis, Il tutore burlato, Il Burbero di Buon Cuore, both by V. Martin and Soler, Los amores de la Inés by Falla, L´Indovina by S. Giner or the ballet Âtman, el Comiat, by Llopis.
Similarly, educational projects are part of his aims (Spanish premiere of Pinocchio, opera by P. Valtinoni). Soler is very concerned about the creation of new public and ongoing support to new generations of musicians. As artistic director, he has designed two international competitions for the promotion and support of young talents: International Violin Competition "Cullerarts", and International Orchestral Conducting Competition "Llíria City of Music".
Cristóbal Soler was born in Alcásser, Valencia. He started his studies in orchestral conducting under his mentor, Maestro José Maria Cervera Collado. He also appeared in numerous productions as the assistant conductor at important venues such as the Gran Teatre Liceu in Barcelona, Teatro Lírico Nacional de la Zarzuela in Madrid or Staatstheater Karlsruhe. After completing his Degree of Composition and Orchestral Conducting, he continued his graduate studies as conductor at the University in Munich, where he obtained high honours. Soler was the founder and artistic director of the Philharmonic Orchestra of the University of Valencia (1995-2010), winning the First Prize at the International Youth Music Festival and Competition in Vienna in 1998.
Reiner Bischof, General Secretary of the Vienna Symphony Orchestra, invited him to become his assistant, working closely with great conductors such as Wofgang Sawallisch, George Prêtre, Vladimir Fedoseyev or Mariss Jansons. Subsequently, he was personally invited by Nikolaus Harnoncourt, during the 2003/04 season, in Vienna, Graz, Berlin and Zurich.
During the same time, while carrying his integral formation in Central Europe, he collaborated with some of the most representative orchestras in Spain like the Orchestra of the Spanish National Radio and Television Corporation, ORTVE (new engagement as Guest Conductor in collaboration with National Heritage), OBC Nacional de Catalunya, Orquesta de Valencia, Galicia Symphony Orchestra, Community of Madrid Orchestra, Bilbao Symphony Orchestra, Seville Royal Symphony Orchestra, Castilla y León Symphony, Navarre Symphony Orchestra (Associate Director and Principal Guest, 2013-16), Granada City Orchestra, JONDE, etc, at the Palau de la Música in Valencia, the National Auditorium in Madrid, the Palau de la Música in Catalonia or the Baluarte Auditorium in Pamplona, the Cuenca Auditorium Theatre, the Manuel de Falla Auditorium, etc
He has conducted concerts with the Lausanne Chamber Orchestra (Victoria Hall, from Genève and Salle Metrópol, from Lausanne), as well as national and international tours including Austria (the Mozarteum in Salzburg, the Austria Centre in Vienna), France; Portugal (National Symphony Orchestra, Metropolitan Orchestra of Lisbon); Poland; Czech R.; Slovenia; Romania; Cuba; Venezuela (O. Municipal de Caracas); Mexico, Brazil or Argentina.
Amongst his recordings, it is worth mentioning Stravinsky's The Soldier´s Tale; Britten´s The Young Person´s Guide to the Orchestra; Llopis´ Abu Simbel; the Obertura1997; Classical Music, by Chapí, as well as works by Falla, Granados, Turina, Esplá, Sarasate, etc. He has recently recorded with JONDE works by José Luís Turina, José María Sánchez Verdú and Francisco Coll.
Cristóbal Soler is the Chairman and Founder Member of AESDO, the Spanish Association of Conductors, and, since 2017, the Artistic Director of the Religious Music Week of Cuenca, recently distinguished with the "Cultural Insignia of the Community of Castilla-La Mancha", by the Observatory of Culture. Likewise, Cristóbal Soler has been awarded the "City of Cuenca Prize 2018", for his work as artistic director of the SMR.
Composer,
Conductor and conducting professor at the Royal Academy of Music, London.
Conductor John Carewe has studied in London and Paris. His main teachers were Walter Goehr, Max Deutsch (both Schoenberg pupils), Messiaen and Boulez.
In the late 1950s and early 1960s he gave many premières with his New Music Ensemble in London and in the major UK festivals, including the first British Ensemble performance of Le Marteau sans Maitre of Boulez, and first performances of many of his contemporaries. He also conducted in the first British performance of Stockhausen's Gruppen.
In 1966 he became principal conductor of the BBC Welsh Orchestra in Cardiff where he dramatically extended the repertoire of the orchestra during his 5-year tenure. In the mid-1970s he began a fruitful period of annual visits to Argentina, Chile, Uruguay, and Brazil. In the 1980s he made his Germany debut with the Nurnberger Symphoniker and became a regular visitor to Germany conducting many different orchestras, but mainly the major Radio Symphony Orchestras of Berlin, Cologne, Frankfurt, Hamburg, Hannover and Saarbrucken. During this period his work expanded to include orchestras in France, Sweden, Holland and Denmark where he was noted for his wide repertoire which included Mahler, Stravinsky, Debussy, Elgar and especially Haydn and Beethoven.
In 1993 he became General Music Director of the Robert Schumann Philharmonic and Opera in Chemnitz, Germany where he won a national prize for his varied programming. There he conducted Salome, Carmen, The Rake's Progress and La Traviata as well as introducing much contemporary music.
He has an extensive discography, notably a highly praised CD of Debussy's Pelleas et Mélisande recorded in 1988 after performances with Nice Opera, Milhaud's La Creation du Monde, and Stravinsky's The Soldier's Tale (LSO Ensemble); Frank Bridge's Oration (with Alexander Baillie) and Enter Spring (Cologne Radio Symphony Orchestra). Dvorak's 7th Symphony with Brahms's Tragic Overture. Mahler's Kindertotenlieder, Elgar's Sea Pictures, and Zemlinsky's Maeterlink Lieder (with Birgitta Svenden). Colin Matthews' Cello Concerto (with Alexander Baillie) and Sonata No.5 Landscape. David Matthews' Cantiga and Mahler's Seven Early Songs (with Jill Gomez). Prokofiev's Classical Symphony, and Symphony No. 5. Schoenberg's Erwartung (with Eva Marton) for Hungaroton and with the same singer orchestral songs by Zemlinsky, Schoenberg, Schreker and Korngold. Torsten Rasch's Mein Herz brennt (with René Pape, Katharina Thalbach and the Dresdner Sinfoniker). David Matthews' Seventh Symphony with the Bournemouth Symphony Orchestra.
His most recently recording is of the Violin Concertos of Glazunov and Dvorak with Sibelius' Six Humoresques (Efi Christodoulou) with the Bournemouth Symphony Orchestra.
Conductor and conducting professor at the universities of Florida and Louisiana, United States.
Creditor of international recognition for his remarkable performances of the most varied repertoire. He studies Orchestral Conducting with Franco Ferrara in Italy and with George Hurst in England; he completes the Post Graduate Certificate in Advanced Conducting at the Guildhall School of Music and Drama of London, Great Britain, where he received the Ricordi prize for his performance in opera conducting.
Riazuelo returned from Europe and was named Artistic Director of the Orquesta Sinfónica Municipal de Caracas, with which he did extensive work in the most varied traditional and popular settings. He has worked with soloists such as Henryk Szeryng, Janos Starker, Nicanor Zabaleta, Gyorgy Sandor, Yuri Bashmet, Joaquín Achúcarro, Michala Petri, Frans Helmerson and Joshua Bell.
He has directed performances including Tosca, Bohème, Butterfly, Traviata, Norma, Don Giovanni, Cenerentola, Dido and Eneas, Don Pasquale, Sonnambula, Capuletti and Montecchi, Il Trovatore and Elisir d'amore, among others. Under his baton have performed: Alfredo Kraus, Ruggero Raimondi, Samuel Ramey, Chris Merritt, Giacomo Aragall, Martine Doupouy, Justino Díaz, Lando Bartolini, Paul Plishka, June Anderson, Dmitri Hvorostovsky.
In Venezuela he has been invited by most of the country's orchestras. He produced and performed for two years a series of television programs with the Sinfónica Municipal de Caracas. He has recorded two CDs with works by Venezuelan composers, works by Leonard Bernstein (West Side Story) and Serge Prokofieff ("Romeo and Juliet") and another in Spain with the Orquesta Filarmónica de Gran Canaria and Alfredo Kraus (Alfredo Kraus, Con el corazón). In addition to Spain, he has performed in the United States, Mexico, Belgium, Italy, Germany, Colombia, Bulgaria, France and Poland.
In Spain he has conducted zarzuela at the Teatro "La Zarzuela" and Opera de Madrid, and symphonic concerts in Córdoba, Galicia, Principality of Asturias, City of Malaga, Balearic Islands, Philharmonic of the University of Valencia and the Chamber Orchestra of Elche. With the Symphony Orchestra of the Community of Madrid he received public and critical acclaim.
He has been Professor and Director of Orchestral Studies in Miami (Florida International University) and Baton Rouge (Louisiana State University), while continuing his activity as a guest conductor in various countries.
SOME CRITICAL THOUGHTS
"[…] What do we hear? A homogeneous orchestra, with round-sounding strings, capable of adapting to an infinity of sonic nuances, phrasing admirably under the direction of Carlos Riazuelo […]." Alain Lompech, Le Monde, Paris, France.
"[Riazuelo] as the ability to make you sit and listen because he has an exceptional ear for colour and orchestral balances and some personal ideas on how the music should sound […]. Consequently, Mr. Riazuelo made both the hall and the music sound live and exciting." John Ardoin, The Dallas Morning News, Dallas, TX.
"Of the conductors who have visited us recently […] we must highlight Carlos Riazuelo […]. He is a man who has Music in his hands, in his head and in his heart, and who made the Symphony Orchestra sound great from the State of Mexico […]." José A. Fernández, Mexico.
"[Riazuelo] presented a brilliant calling card of his faculties with Bernstein's overture "Candide" […] he showed his ability to penetrate with conviction in the problematic 3a. Brahms symphony, capturing his fervent singing, understanding feelings of rebellious stubbornness and suppressed resignation […] A happy concert night." Wolfgang Gubisch, Sächsische Zeitung, Dresden, Germany.
"Riazuelo […] was swaying to its rhythm like a veritable Leonard Bernstein. How Riazuelo and the musicians held the wild mix together I have no idea, but it seemed to me they did, and brilliantly […]. The dynamics were carefully controlled; the finale was like a deliverance […]. Riazuelo conducted with the same intensity and awareness with which he had energized the Venezuelan music, and the result was stirring." William Glackin, The Sacramento Bee, Sacramento, CA.
"With Riazuelo's subtly elegant yet precise style, the orchestra sounded at its best […] His version of Pulcinella was exceptional […]." Christopher Brennan, Knoxville, USA.
"[…] and, finally, the exceptional performance of our Symphony under the baton of the Venezuelan conductor Carlos Riazuelo, with total mastery of his craft and a wonderful interpretation of each of the works, who gave true brilliance to the orchestral ensemble and the acting soloists." Palma de Mallorca, Baleares.
Chief and artistic conductor of Orquesta Sinfónica de la Región de Murcia.
She began her musical studies at the age of six at the Municipal Academy of Molina de Segura. At the age of eight she began piano studies with Pilar Valero and Pedro Valero, among others. At the age of thirteen, she took over the direction of the Municipal Children's Choirs of Molina de Segura, a job that she maintained until 1999.
During those years she took various courses in orchestral conducting with Manuel Hernández Silva and with Igor Dronov. In 1999 she graduated from the Murcia Superior Conservatory and, with a Seneca Foundation grant, moved to Vienna where she graduated from the city's conservatory in Orchestra Direction with honours and a special commendation in June 2003. There she had as professors Reinhard Schwarz and Georg Mark and she conducted the Vienna Radio Symphony Orchestra performing "The Firebird", by Igor Stravinsky.
In 2000 she became part of the Vienna "Singverein Chor", with which she has given numerous concerts throughout Austria and Europe.
In February 2003 she conducted the premiere of Markus Preisl's Deus ex Machina (a contemporary work) with the Contemporary Music Ensemble of the Vienna Conservatory. With this group she also performed the interpretation of Les Oisseaux Exotiques by Olivier Messiaen in October 2002. That same year she premiered the work Winterlandschaft (Winter Landscape) by the composer Stefan Höll, and made her official debut in Murcia, leading the Murcia Region Symphony Orchestra in the Auditorium and Congress Centre "Víctor Villegas", a concert that was broadcast by RNE-2.
In 2004 she was named "Young Person of the Year" by the Murcia Regional Ministry for Youth and also appointed assistant conductor to Bertrand de Billy at the Gran Teatro del Liceu in Barcelona for the staging of the operas Siegfried and El Ocaso de los Dioses. In 2005/6 she was assistant conductor of the Barcelona Symphony and Catalonia National Orchestra, while also working as artistic director of the Superior School of Music of Catalonia (ESMUC). In 2006/7 she was assistant conductor of the Valencia Orchestra together with Yaron Traub.
She has conducted with great success the following orchestras: the Symphony Orchestra of the Region of Murcia (OSRM), the National Orchestra of Spain (ONE), the Singapore National Orchestra, the Montpellier National Orchestra, the Valencia Orchestra, the Vallés Symphony, the Gran Canaria Philharmonic Orchestra (OFGC), "Barcelona 216" Orchestra, City of Barcelona and National Orchestra of Catalonia (OBC), Principality of Asturias Symphony (OSPA), Oviedo Philharmonic, Granada Orchestra, Cordoba Orchestra, Malaga Philharmonic Orchestra, Conservatory of Vienna, Menorca Orchestra, Camara Musicae Orchestra, Bilbao Symphony Orchestra (BOSS), Madrid Municipal Band, Wiener Kammerorchester, Santo Domingo National Orchestra, where he collaborates with Philippe Entremont, Brazil National Orchestra and Navarra Symphony Orchestra, among others.
In 2007 she toured Spain with the Vienna Chamber Orchestra and in 2009 she toured the USA, performing at McCormick Place in Chicago and the Lincoln Center in New York. In July 2010 she premiered the opera "Con los Pies en la Luna" by Toni Parera, staging by Paco Azorin, performance by María Bayo and produced by the Barcelona Grec Festival, the Gran Teatre del Liceu, ABAO, Teatro de la Maestranza and Teatro Real de Madrid.
She has conducted "El Barbero de Sevilla", by Rossini at the Opera Cycle of the Auditorium of Murcia, under the scenic direction of José Carlos Plaza; and the Zarzuela "La del manojo de rosas" at the Campoamor Theatre in Oviedo and under the stage direction of Emilio Sagi.
Virginia Martínez has worked with soloists such as Javier Perianes, Boris Belkin, Joaquín Achúcarro, Judith Jáuregi, Fazil Say, María Espada, Jose Antonio López, Gustavo Peña, José Ferrero, Cristina Faus, María Bayo, Pablo Ferrández, Christian Poltera, Jesús Reina, Gabriela Montero or Joaquín Riqueme, among others.
In 2016, the city of Molina de Segura inaugurated the "Virginia Martínez Fernández Auditorium, in her honour.
In January 2019, she was distinguished in the ninth annual "Women of the Year" awards by the national magazine Mujer Hoy. On 8th March, she was named "Murcian Woman of 2018" by the Autonomous Community of Murcia for being "one of the most important young orchestra conductors on the international stage" and for "her qualities as a person and as an educator", the result of her tireless efforts to bring classical music closer to young people.
Since September 2012 she is the Artistic Director and Chief Conductor of the Symphony Orchestra of the Region of Murcia and the Youth Orchestra of the Region of Murcia.
Composer.
Author of Cantos, for String Orchestra, World premiere at the International Conducting Competition "Lliria, City of Music", 2021.
International Classical Music Award (ICMA) 2019. Born in Valencia in 1985, Coll studied at the Valencia and Madrid Conservatoires as well as at the Guildhall School of Music in London, where he obtained the End of Degree Honour Award and End of Master Honour Award. In parallel, he studied composition with Thomas Adès.
Coll has received the advocacy of some of the world's leading orchestras and ensembles, including the LA Philharmonic, Ensemble InterContemporain, City of Birmingham Symphony Orchestra, BBC Scottish Symphony Orchestra, Lucerne Symphony Orchestra, Seattle Symphony, Bamberger Symphoniker, OCNE or the London Sinfonietta.
His 2014 chamber opera Café Kafka was a great success premiered at the Royal Opera House in Covent Garden. "Could Coll be the composer Spain has long been waiting for?" the BBC Music Magazine wondered. Later the work was scheduled and has since been staged at Valencia's Palau de les Arts. His piece Hidd'n Blue, commissioned by the London Symphony Orchestra, has been taken up by orchestras such as the SWR Sinfonieorchester Baden-Baden und Freiburg, the Munich Philharmonic, the RTVE Orchestra or the Cincinnati Symphony Orchestra, among others.
In 2016 Coll made his BBC Proms composer debut with his Four Iberian Miniatures for violin and chamber orchestra. 2016 also saw the premiere of Mural by the Orchestre Philharmonique du Luxembourg. Mural was performed again within the programming of the BBC Proms 2017. His music has been performed at prestigious festivals in Aldeburgh, Aspen, Cheltenham, Huddersfield, Verbier and Tanglewood.
In June 2019 he made his debut as conductor, premiering his Double Concerto Les Plaisirs iIluminés, in front of the Camerata Bern and with Patricia Kopatchinskaja and Sol Gabetta as soloists, and recorded on CD by the Alpha record label. The specialized press publishes:
"One of the greatest revelations of the 21st century so far, the 1985-born Valencian Francisco Coll, perhaps today the Spanish composer with the greatest international reach"
(Luis Suñén, Scherzo).
Coll's next appearances as conductor will be in front of the Amsterdam Sinfonietta, together with the Cuarteto Casals, to perform the Dutch premiere of his Concerto Grosso Invisible Zones. He will also conduct the Valencia Orchestra (Lilith), New European Ensemble, or Kammerorchester Basel, among others.
Recently, the Pentatone label has released a monographic album with his symphonic work, together with Gustavo Gimeno, Patricia Kopatchinskaja and the Orchester Philharmonique du Luxembourg, obtaining five-star reviews from both The Guardian and Diapason.
Conductor.
Artistic director of the Lorraine de Metz National Orchestra (2002-2007).
Jacques Mercier has studied at the Conservatoire National Supérieur de Musique de Paris, where he was unanimously awarded the First Prize of conducting. In the same year, he was awarded the First Prize at the International Competition for Young Conductors in Besançon and was prize-winner of the Fondation de la Vocation.
He has quickly begun an international career. He conducts famous formations: the Orchestre de Paris, the Orchestre national de Radio France, the London Symphony Orchestra, the Philharmonic Orchestra of Stockholm, the Philharmonic Orchestra of Moscow, the Orchestre de la Suisse Romande… Holder of the title of "Souveräner Dirigent" in Berlin, Jacques Mercier also performs at the Salzburg Festival, in Bucharest, Helsinki and Madrid, where he is acclaimed by critics as "one of the best French and European conductors of his generation".
From 1982 to 2002, Jacques Mercier has been Artistic Director and Resident Conductor of the Orchestre National d'Île-de-France. "Displaying communicative energy and enthusiasm, Jacques Mercier managed to make his formation rise at the first places among French orchestras." (O. Bellamy in L'Evénement du Jeudi); "Jacques Mercier has irrefutably proved his great talent, made of precision and mastery, but also with fire and panache." (P. Petit in Le Figaro).
For seven years, Jacques Mercier has served as Resident Conductor of the Turku Philharmonic in Finland. This experience has been determining in his way of conducting works by North European composers such as Sibelius whose repertoire he made known in France. But his talent, made of precision, rigour, finesse and extreme sensibility, is also perfect when conducting 19th and 20th French repertoires, including new music for which he is standing up with passion – some creations, including some by Iannis Xenakis, Luis de Pablo, Philippe Manoury et Wolfgang Rihm belong to his repertoire.
Jacques Mercier has proved his curiosity and pertinence when choosing his recording. Bacchus and Ariane and Melodies by Albert Roussel have been awarded the Prize of the Académie Charles Cros, Djamileh by Bizet the Prize of the Académie du disque lyrique. His recording, Le Martyre de Saint-Sébastien by Claude Debussy for RCA, has got the "Choc" from the Monde de la Musique. Among lyrical works, Jacques Mercier conducts above all works from the French repertoire such as Carmen, Faust, Béatrice and Bénédict, Dialogues des Carmélites, Pelléas et Mélisande, Lakmé…
Chosen as the "2002 musical Personality" by the professional Union of dramatic and musical critics, Jacques Mercier was Resident Conductor and Artistic Director of the Orchestre National de Lorraine in Metz until 2017. His first CD with the orchestra, L'An Mil, by Gabriel Pierné was awarded the Diapason d'Or 2007.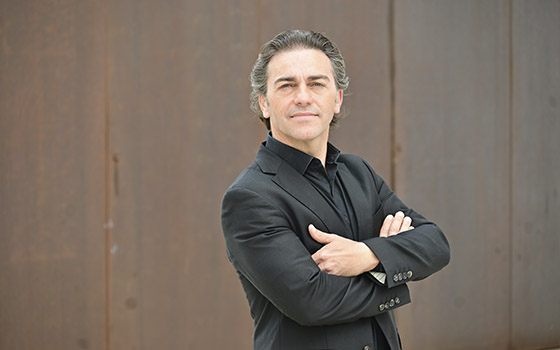 Conductor.
Chief and artistic conductor of Orquesta Filarmónica de Málaga.
Considered one of the most passionate, energetic and versatile Spanish conductors of his generation, he has conducted orchestras such as the Berlin, Brandenburg and Augsburg Symphony (Germany), the Karelian Philharmonic (Russia), the National Symphony (Colombia), the Veneta Philharmonic ( Italy), the Symphony of Pori (Finland), do Norte (Portugal), Orquestra del Gran Teatre del Liceu, Oviedo Filarmonía, Symphony of Madrid, Galicia, Valencia, Barcelona, Community of Madrid and the Balearic Islands, JORCAM, etc.
Some of the prestigious soloists he has worked with are: Ainhoa Arteta, Plácido Domingo, Josu de Solaun, Roberto Alagna, Sergei Sichkov, Pacho Flores, Juan Pérez Floristán, Carlos Álvarez, José Bros, Joan Pons, Sergei Malov, Leticia Moreno, etc.
He is Chief Conductor of the Malaga Philharmonic, Music Director of the Quintana Roo Symphony (Mexico) and Principal Guest of the Opera no Patrimonio Orchestra (Portugal).
He has offered operas, zarzuelas, ballets and concerts in China, Canada, Russia, Mexico, Colombia, Germany, Finland, Italy and Portugal.
It should be highlighted his performances in the Beijin Forbidden City Music Hall, the Berliner Philarmonie, the Helsinki Music Center, the Teatro Real, the Liceu de Barcelona, the Colón de Bogotá or in the Teatro de la Zarzuela in Madrid.
Public and critics have highlighted the success of his leadership of the Teatre Principal of Palma de Mallorca as Artistic and Musical Director.
Born in Palma de Mallorca, José María Moreno undertook his initial studies of conducting in Spain, completing advanced studies at the Rimsky-Korsakov Conservatory in St. Petersburg with maestro Mijail Kukushkin.
Trained at the Conservatories of Valencia, Barcelona and the Balearic Islands, he obtained the Titles of Superior Professor of Orchestral Conducting, Singing Professor and Professor of Theory, Piano, Harmony, Counterpoint and Composition. In addition, he is licensed in Law from the Balearic Islands University.
Under the guidance of Maestro Pedro Valencia, he is a pioneer in introducing techniques of Hun Yuan Tai Chi Chuan applied to the art of conducting.
For several years he has been Professor of Improvisation, Conducting Technique, Choir and Musical Analysis at the Superior Conservatory of the Balearic Islands.
This 21/22 Season, he has projects to conduct in Colombia, Mexico, China, Switzerland, Germany, Finland, Czech Republic, Poland, Portugal, Pamplona, Jerez, Vitoria, Palma de Mallorca, etc.
Conductor.
Chief and artistic conductor of Orquesta de Extremadura.
Andrés Salado is one of the most outstanding Spanish conductors of his generation. Born in Madrid in 1983, he began his musical training by studying the Baroque piano, violin and flute, finally opting to specialize in percussion, the title of which he obtained at the Real Conservatorio Superior de Música de Madrid.
Later, being attracted by the orchestral sound that he heard in his numerous interventions, either as a collaborator or as a regular member of orchestras such as the Young Orchestra of the Community of Madrid, the Young National Orchestra of Spain or the Orchestra of the Community of Madrid, among others, he began his orchestral conducting studies. He has trained with the professors Miguel Romea, Peter Rundell, Jorma Panula, Sandro Gorli, Peter Gülke, Peter Eötvös and Antoni Ros Marbà.
He has conducted a large part of the main Spanish orchestras, such as the National Orchestra of Spain, the RTVE Symphony Orchestra, the Symphonic Orchestra of Barcelona and the National of Catalonia, the Royal Philharmonic of Galicia, the Oviedo Philharmonic, the Royal Symphony Orchestra of Seville, the symphony orchestras of Madrid, Bilbao, Tenerife, Navarra, Euskadi, Extremadura, Balearic Islands, Valencia. He has also conducted the youth orchestras of: Galicia, Seville, Community of Madrid, JONDE and the Youth Orchestra of Extremadura – of which he is Chief Conductor and Artistic Director. At an international level, he has conducted significant groups: National Symphony Orchestra of Mexico, Yucatan Symphony Orchestra, Porto Symphony Orchestra "Casa da Musica", Divertimento Ensemble, Salzburg Chamber Soloist at the Mozarteum Sommerakademie and the Lucerne Festival Academy Orchestra at the Festival de Lucerna, among others. His entry into the world of opera is equally brilliant, conducting Il barbiere di Siviglia by G. Rossini, Il segreto di Susanna by E. Wolf-Ferrari, The Telephone by G.C. Menotti and Macbeth by G. Verdi.
Some of his recent and upcoming commitments include: Norma (Teatre Principal de Palma), El Martirio de San Sebastián with La Fura dels Baus and La Traviata (Teatro Calderón, Valladolid), Festival de Cap Roig with Ainhoa Arteta, concerts with the National Orchestra of Spain, Orquestra Simfònica del Vallès, the symphonic orchestras of Galicia, Castilla y León, Seville, Balearic Islands, Region of Murcia and Extremadura, Mexico City Philharmonic, among others; he reappears at the head of the National Symphony Orchestra (Mexico) and makes his debut with the Orchestra Sinfonica di Milano Giuseppe Verdi at the MITO Festival (Italy), the Philharmonic Orchestra of the State of Querétaro (Mexico) and the Valencian Community Orchestra at the Palau de les Arts.
Winner of the Princess Girona Foundation Award for Arts and Letters 2016, Andrés Salado has been appointed Chief Conductor and Artistic Director of the Extremadura Orchestra as of the 2021/2022 season.